Regular price
$105.88 USD
Regular price
Sale price
$105.88 USD
Unit price
per
Sale
Sold out
Specifications  

LED - 21x  Nichia E21A High CRI98 emitters

Max output: 

Nichia E21A SW455 D240 4500K version --5200 Lumens

Nichia E21A sm2050 D160 2000K version --3500 Lumens

4x RGB auxiliary  LEDs
Durable electronic side switch
High efficiency 6A constant current buck driver  (>90%   efficiency) with FET Turbo
True 2A USB-C in-built smart battery charging  capability
Ultra-clear AR coated optical glass lens
1x   21700 lithium battery,  or18650 battery with included adapter (battery   not  i ncluded)
Operating range 2.7V to 4.3V
Dimensions
○
Body Diameter  -  26.5mm
○
Weight  -   Approx.  108g  without battery
6063-T6 aluminum construction with stainless steel bezel ring
Durable type-III hard anodized coating
User  Interface
○
Latest Anduril2 open-source firmware with Simple and Advanced   UI
■
Simple UI: 6A maximum regulated current
■
Advanced UI: 6A  maximum regulated current with FET Turbo
○
Fully configurable modes of operation:  smooth ramp to stepped ramp
○
Fully configurable auxiliary LED effects and modes
○
Automatic,  manual,   or hybrid memory modes
○
Continuously monitored battery current,  voltage, and temperature with 2.8V battery cut-off
○
Ability to customize highest and lowest output levels
○
Ability to customize thermal regulation (50C by default)
○
Large variety of beacon,  SOS,  tactical strobes,  and special effects including:
■
Candle flicker, thunderstorm, bicycle light, sunset timer and more!
○
Readout of battery voltage, internal temperature
○
Electronic factory reset capability
○
Lock-out mode capability
○
Manual:  http://toykeeper.net/torches/fsm/anduril2/anduril-manual.txt
Features
○
Battery reverse polarity protection
○
+-1C  factory calibrated thermal accuracy
○
Optimized low parasitic drain  (if aux. LEDs disabled )
○
Removable Metal pocket clip
○
High performance copper thermal sink for LEDs
○ High Conductive Silver-Plated 17530 BeCU Bypassed Springs
○
Heavy-duty removeable magnet in tailcap
○
6-pin  programming pads on driver board for hobbyist customization
Operation   Guide  
The NOV-MU flashlight features the advanced open-source user interface firmware,   Anduril2.  For full details of operation,  please  see  the detailed manual:    http://toykeeper.net/torches/fsm/anduril2/anduril-manual.txt 
At the first glance of the UI , most fresh users will feel confused with the UI, But in fact , you can operate the light as easy as other common flashlights.  Just in case you want to try more functions , you need to spend some time to read the manual .  If you do not need the advanced features, just do not use it.
    
Anduril2 has two different operating  user-interfaces.  
1.
Simple UI -- Stepped 5-mode ramping default     (Easy to operate for all fresh users)
2.
Advanced UI            (need to spend some time to read the manual carefully to try more functions)
Enter advanced UI to unlock all the features available. It is simple to switch between Simple and Advanced UI.     

Note: Anduril2 has the capability to adjust battery voltage correction and temperature calibration.  The NOV-MU flashlight comes with 1%  voltage accuracy and +-1C temperature accuracy from the factory and does not   need to be calibrated by the user.
Quick Start  
After insertion of the battery and screwing on the end cap,  the light will blink quickly once to confirm that it is operational.   
-
Click once to turn the light on or off
-
Hold the button while light is on to change brightness
-
Release and hold to change brightness the other way
-
Click and hold from off to turn on starting at lowest brightness, before ramping up
-
Double click the button to turn on at highest brightness
-
Battery check mode - three clicks - flashlight flashes battery voltage then turns off
More Advanced Functions   
To access additional modes, switch to the Advanced UI .   For pratical daily use, you do not have to access to the Advanced UI.
-
Click ten times and hold the last click. The flashlight will flash once, indicating that it is  now in advanced UI
-
When in advanced UI,  simply click ten times without holding  the last click to transition back to simple UI.
Advanced UI has all the features of Simple UI,  and increases brightness modes,   allows access to all the features,  and unlocks Turbo mode.     
-
There are two ways to access Turbo:
-
From off,   click twice and hold the second click -   momentary turbo
-
From on,   click and hold to the top of the ramp.   At the top of the ramp,  double click to enter sustained turbo.
By default,  the brightness ramp style is  stepped 5-mode ramping.  
-
While the  flashlight  is  on at any brightness  level,  click  three times to switch from stepped ramping to smooth ramping.
-
This ramp style is memorized and applies even when transitioning back to simple UI.
Electronic factory reset  capability
There is 2 ways for factory reset, back to Simple UI by default
         1.When the light is off,  13 clicks and hold , See blink signal , back to Simple UI 
         2. loose a bit the flashlight body, then hold the switch , re-connect the body to the head,  see blink signal,  back to Simple UI
Battery Charging  
The NOV-MU includes an intelligent on-board USB-C battery charger with safety interlocks. The NOV-MU charges at 2A,  hence is it recommended to connect the NOV-MU to a USB charger source capable of supplying at least 2A.   
A  built-in safety timer prevents extended trickle charging over 2 hours due to abnormal battery conditions.  In case of this,   the red switch LED blinks to indicate a battery fault
When a USB-C cable is  plugged into the NOV-MU, cyan LEDs l ight up the side switch to indicate that the  power source is good.     
During charging,  red LEDs  also light up the side switch to indicate charging in progress.   When charging is completed,  the  red LEDs will turn off.  At completion, only the cyan LEDs will be left i lluminated.  The red LED will blink  if  there is a fault in the charging system.  Please only charge  lithium-ion 21700 or 18650 batteries in the NOV-MU. 
Note:  The flashlight can be fully operated while being charged. However,  it is  recommended to only run the flashlight at  low  brightness levels, otherwise the battery will be  discharged faster than it can be charged,  and result in a charger timer lock-out.     
Share
View full details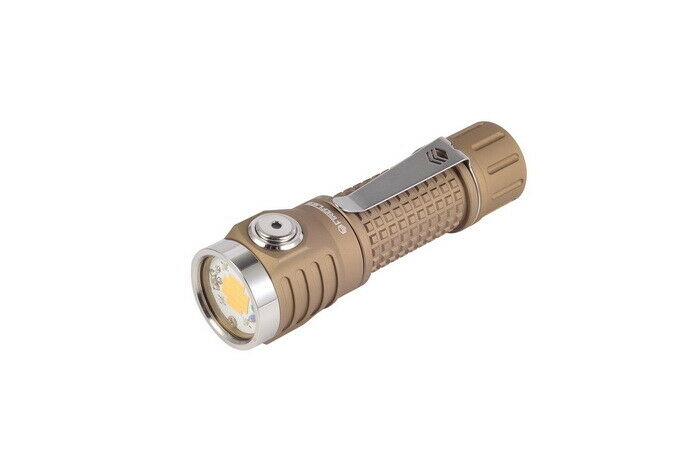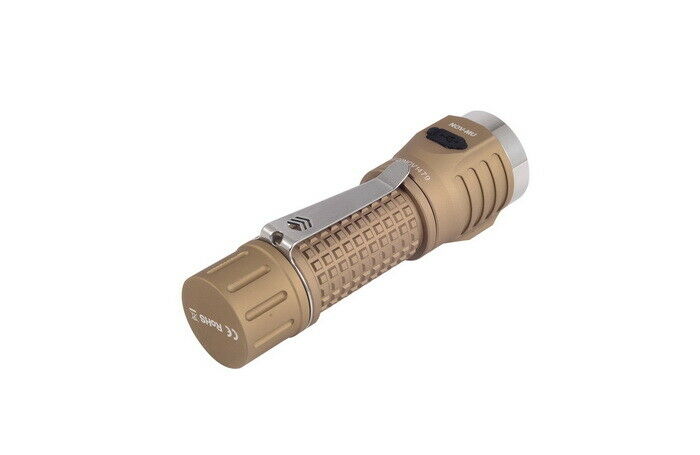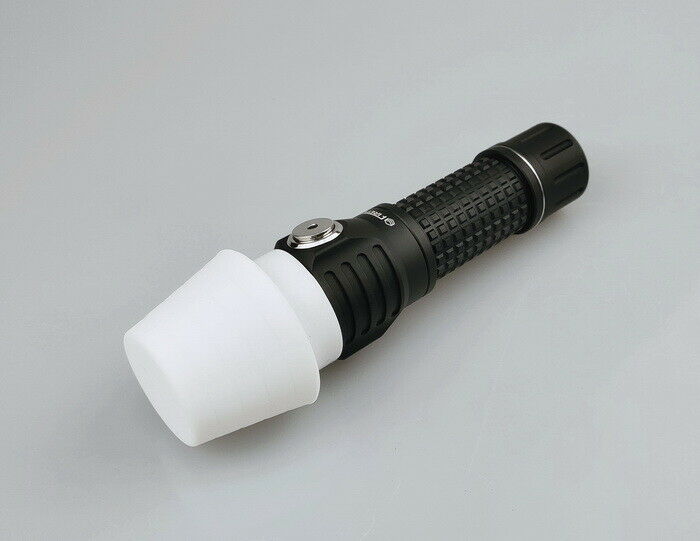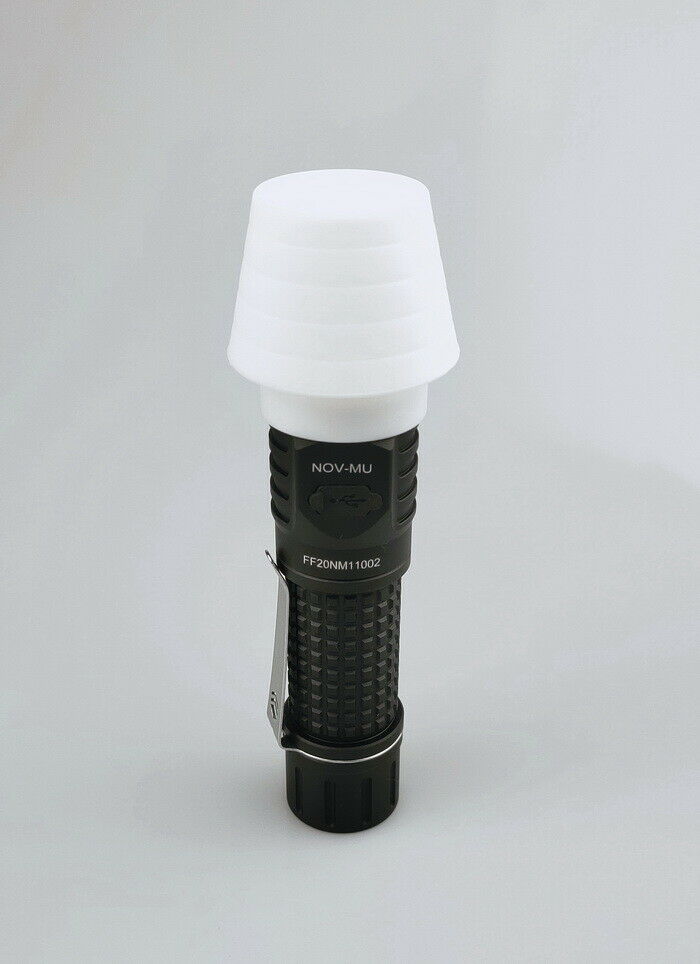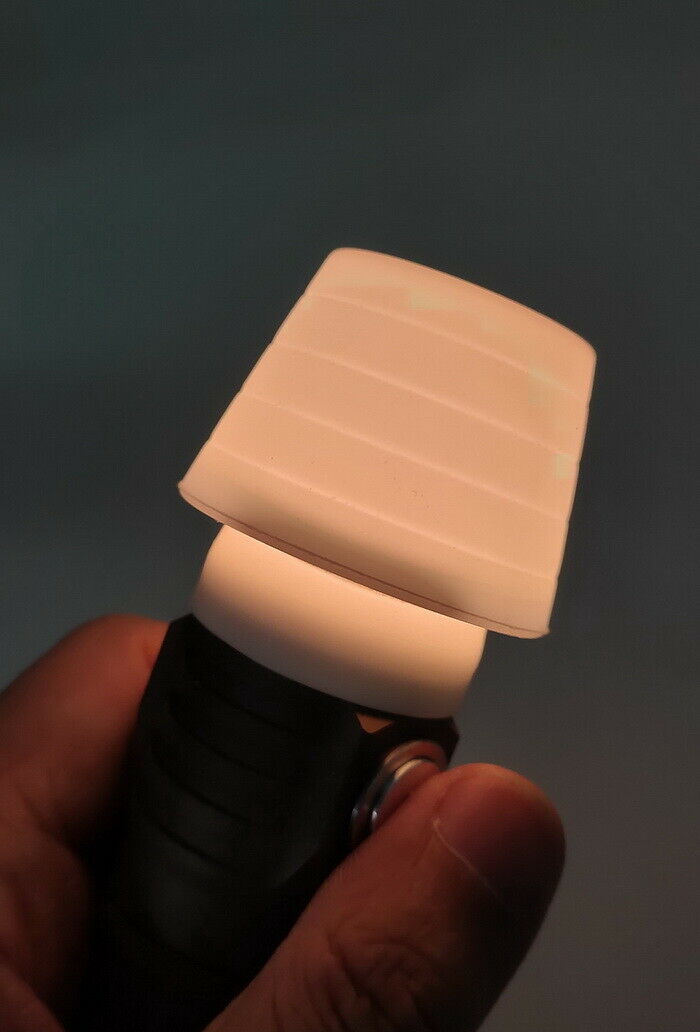 Collapsible content
DETAILS

Provide details like specifications, materials, or measurements.

Add an image in your Collapsible content settings for more visual interest.
TIPS

Share expert tips on how to use this product or pair it with other items.
SHIPPING

List the details of your shipping policy.